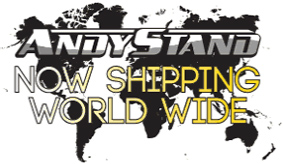 World Wide Shipping
For customers outside of the UK mainland, postage and packaging will incur an additional charge. All shipping prices for customers outside of the UK mainland postal area are real time quotes and the price displayed is the cheapest price from a range of couriers.
For anyone who is purchasing an Andystand and would like it shipping abroad, we advise the AS 2 Folding Stand as it will incur a smaller shipping fee.
UK Mainland Shipping
Postage and packaging costs are included in the product price for all UK Mainland deliveries. Our stands are wrapped and packaged at our factory and sent out via APC for delivery.
Estimated delivery time is between 2-5 working days.